PLACE OF BIRTH: 30 july 1994
DATE OF BIRTH: Ravenna, Italia
HEIGHT: 183 cm
WEIGHT: 75 kg
EYES: brown
HAIR: black
LUCKY NUMBER: 5
RACE NUMBER: 5
HOBBY: mountainbike, guitar
FAVOURITE CIRCUIT: Imola
FIRST WIN: Aragon 1st 600 STK – 2014
FIRST PODIUM: Aragon  600 STK – 2014
WINS: 5 (600 STK)
PODIUMS: 5 (600 STK) ; 1 (1000 STK)


CAREER
Marco Faccani was born in Ravenna on 20 July 1994 and still lives there today. He made his debut with mini-bikes in 2003 and began riding motocross bikes in 2006.
In 2007 Marco competed in the brand-new Honda Italia Racing Project and was selected to continue the following year.
In 2008, he came second in the Senior category of the Italian MiniGP championship, riding the Honda of the Carlo Junior Team by Gresini. He also flew to Japan to fly the Italian flag in the "world" minigp championship. In 2009-2010, he participated in the Honda RS 125 GP trophy, finishing third in his first year and winning in 2010, having scored three race wins.
In 2011 he debuted in the CBR 600 RR Trophy and the following year he continued in the same category, also competing in the Italian Supersport 600 championship. He finished third in the CBR Trophy and seventh in the SSP600 category.
In 2013 he participated in the Italian Supersport 600 championship once again, with the Evan Bros team, finishing fourth.
In 2014 he won the European Superstock 600 championship at the penultimate race, riding the Kawasaki of the Puccetti Racing team. He won 5 out of 7 of the season's races.
In 2015 his move to the Supersport 600 world championship proved tricky. His best result came at Imola where he finished fifth, before concluding the year in ninth position overall.
Marco changed category once more for 2016, moving across to the Stock1000 championship. There were highs and lows for Marco, riding the Ducati for team TripleM Racing. He was often among the frontrunners though and scored pole position and a podiuj finish (third) at Misano.
In 2017 he moves to the Althea Racing team to compete in the Superstock 1000 European championship riding the BMW S 1000 RR.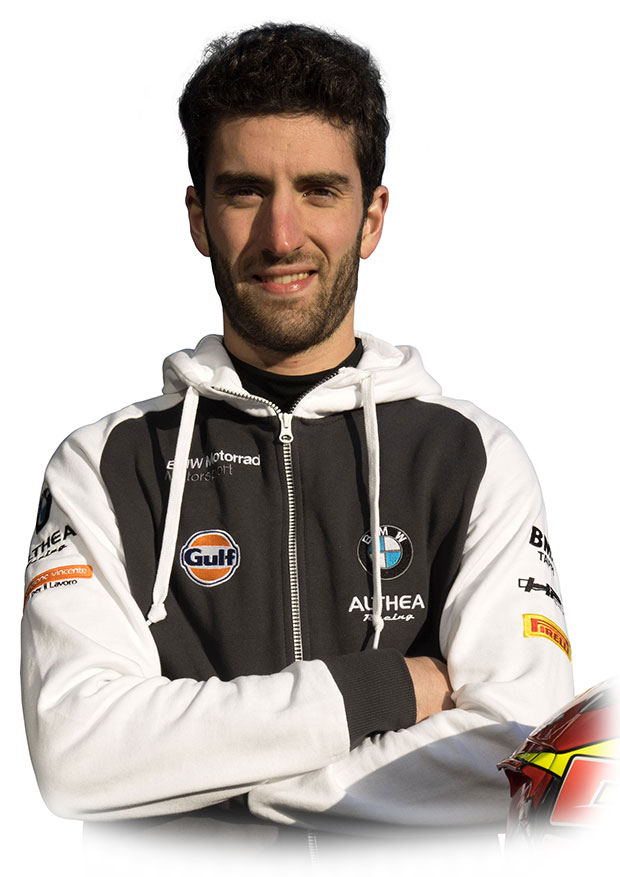 INTERVIEW WITH THE RIDER
How did your passion for two wheels begin? When did you first approach motorbikes?
It was mainly my dad who got me into bikes but my mum had one too and so it came very naturally, I was about four the first time i rode a mini-bike on the road in front of my house… I remember it well as we also made some videos.
When did you make your debut in a championship?
My very first race was in 2003, a mini-bike championship and from there the real racing began. In terms of 'big wheels', my first race was in 2009 at Misano with a little Honda 125gp in the trophy championship of the same name. After this I moved on to Supersport 600, and Superstock 1000, the championship I'm taking part in now, as of 2016.
How would you describe the 2016 season?
2008 – 2nd – Italian MiniGP championship
2009 – 3rd – Honda RS 125GP Trophy
2010 –  1st – Honda RS125GP Trophy
2011 – Honda CBR600RR Cup
2012 – Italian Supersport 600 championship
2013 – 4th – Italian Supersport 600 championship
2014  – European Stock 600 chapionship
2015 – 9th – Supersport 600 world championship
2016 – 11th –  Superstock 1000 FIM Cup
How would you describe the 2016 season?
The season had its highs and lows, with some mistakes on my part and also a few technical issues. I was often among the frontrunners though and my best results was a third place finish at Misano.
How do you see the 2017 season unfolding?
I think this can be a 'comeback' year for me, it's my second year in the category and, as part of an important team, I can aim to win. I'll have several very strong rivals and also some strong new-entries who should not be underestimated. I don't want to name any one name because I don't think it will just be a two-way battle, but rather a championship that will go down to the wire.